Yeah, I know—it sounds like a Hardy Boys book. But the Blackberry one-room schoolhouse was definitely an enigma. I never did find it, and yet I saw it over and over again.

My Z4 destination for Sunday, December 4 was York Sulphur Springs in Adams County, PA. I discovered the town while randomly mousing around Google Maps in search of a trip, and I was intrigued by its name. A search or two brought me to the websites of Ye Olde Sulphur Springs Historical Society and one Dave Worley. The former site had a nice driving tour, and the latter contained an eclectic and fascinating history of the area. After looking these over, I was sold. (Unless otherwise noted, all of the historical photos used in this report are drawn from Dave's website, with his very generous permission.)
I set off early on a cold, overcast morning and motored past Gettysburg to the start of my tour: the Old White Church Cemetery, a few miles south of York Sulphur Springs. An Anglican church used to stand here, dating from the 1740s, but today there is no sign of it. The parishioners moved to York Sulphur Springs in 1836, but the gravestones remain, and they were in complete harmony with the gray and dreary day.

Along with the Worleys, Wiermans, Griests, and Wolfes, the Coulsons were (and continue to be) a major family name in this area. This is the final resting place of Charles and Mary Coulson. While I couldn't find any specific information on this couple, the dates would be about right for Captain Charles Coulson who led a company of militia during the Revolutionary War.

I next went in search of what, if anything, might be left of Wierman's Mill. Speculating that Wierman's Mill Road might somehow be related, I first followed its path east of White Church Road. I found a lot of ruins without difficulty, but they were of the concrete block variety—much too new to be a mill built in the 1700s.

Reversing course westward, I soon found that the road paralleled Bermudian Creek—always a good sign when looking for a mill—and before long I found a more promising set of ruins.

Subsequent viewing of Jim Miller's extraordinary website on mills across the U.S. proved that this was, indeed, Wierman's Mill. Here's a vintage photo, courtesy of Jim's site MillPictures.com. (If you can't find the mill you're interested in here, then you're probably out of luck.) Not sure this is the same mill? Look carefully at the door and windows on the left side of each photo and especially carefully at the larger corner stones. The original mill was built sometime before 1747 by William Wierman and replaced in the late 1700s with this stone structure.

This part of Pennsylvania was settled by English and Irish Quakers in the late 1730s and early 1740s. The Huntington Meeting House was built in 1790 and remains in excellent condition today.

There are many generations of Quakers resting in the Huntington Meeting House cemetery…

…and my eye happened to catch the monuments for Isaac Worley and his wife Caroline Griest Worley—the great, great, great grandparents, I believe, of my new friend Dave Worley. We'll see Isaac and Caroline again before long. For now, their grandson Chester and son Willis are the last two people on the right in the old photo of the meeting house.

Incidentally, did you notice the headstone for Arthur and Mary Worley Wolfe in the background of the prior photo? There were many Wolfes in this area, but the most famous of them, the author Thomas Wolfe (Look Homeward Angel, You Can't Go Home Again, etc.), only visited relatives here occasionally as a child in the early 1900s.
I continued on my tour, in search of the Pondtown Bridge. Out of the corner of my eye, however, I spotted the Blackberry one-room schoolhouse in the distance. This puzzled me quite a bit, since I had assumed (quite reasonably, don't you think) that this school would be situated on Blackberry Schoolhouse Road, a good 5 miles away. Nonetheless, based on the photo I'd seen from Dave's website, I was sure that this was the Blackberry School.

Except, as demonstrated by subsequent reading and and more careful photo-viewing, it was really the Wolford School. I began to realize that there might be more than one one-room schoolhouse in this small township. The schoolhouse, incidentally, is now a private residence but remains very similar in appearance, with only a small addition in back and an extra window here and there. I wish they'd kept the bell tower, however!

The narrow, humpbacked Pondtown Bridge proved to be as scenic as I'd hoped. It has carried local traffic since the 1880s.

As the day was clearing up nicely, down came the top, and I was once again motoring in proper BMW fashion. (Since it was only about 40 degrees, I'll confess that I had the heat turned up pretty high.) Adams County is a beautiful, rural part of Pennsylvania, and there was very little traffic to contend with. A great day for touring in a great car.

With a slight detour from Ye Olde Sulphur Springs Historical Society's route, I found the 1769 Warrington Meeting House. I arrived just as the services were ending—they've been held more-or-less continuously since 1745! As I understand it, Warrington meetings are generally held in silence and end when the clerk of the meeting shakes hands with another attendee, with the full congregation following suit. A number of the people exiting the meeting greeted me and gladly answered my questions. Although it was not even noon, the shadows were already quite long.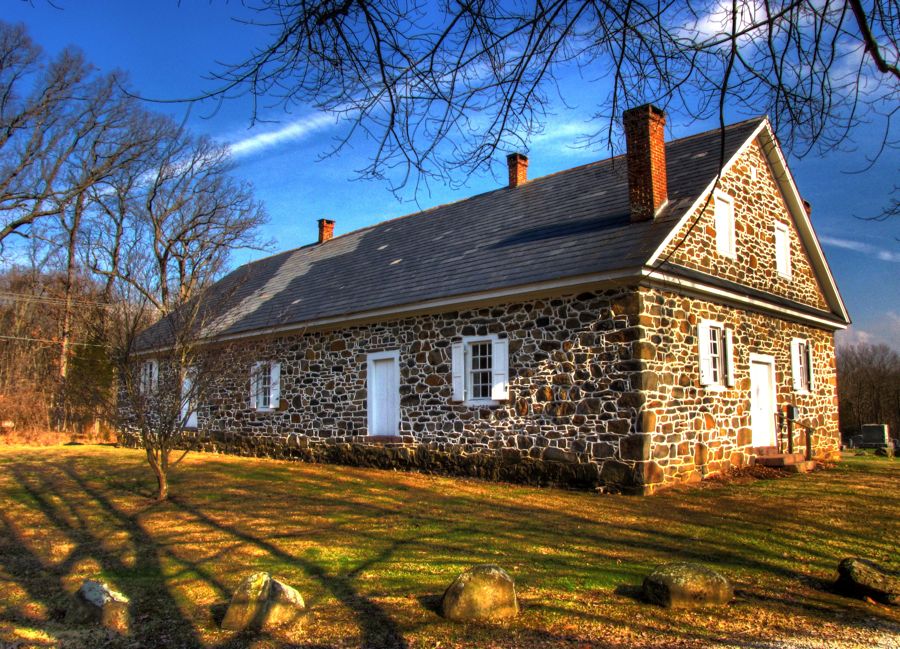 "Hetrick" is not a common last name, and I couldn't help noticing the many monuments in the cemetery for the Hetrick family. My former next-door neighbor, the late (and very much missed) Dr. John ("Jack") Hetrick, may well have some relatives resting here at Warrington.

As long as I was detouring, Wellsville seemed like an interesting place to visit. The Wellsville National Bank began life in 1907 with $25,000 in capital and one Dr. A.C. Hetrick as its first president (see prior photo).

There were many mansions in Wellsville, with this one being my favorite. I'm not sure if its builder was associated with the bank, but they certainly got the stones from the same quarry.

Everyone loves a zany, oddball house—all the more so if it's painted lime green!

Leaving Wellsville, I retraced my path back toward York Sulphur Springs, this time in search of the Wright House and its history with the Underground Railroad during the Civil War. Before getting very far, however, this early 1940s Buick Eight appeared. It looked fairly complete and roadworthy.

From the Historical Society and Dave Worley websites, I'd read about the Wright House and its role in sheltering escaping slaves as they made their way north to freedom. From a 1993 photo on Dave's site (below), I knew that the house was in poor condition and might no longer exist. After a lengthy search, I was unable to find any signs of it. It's a shame, really. Some of the other photographs on Dave's site show what appear to be narrow under-eave spaces in the attack where the escapees may have been hidden. A local account also refers to a cupboard with no bottom, which allowed access to a secret space below floor level. All houses have stories, but imagine the scenes of hope and fear, freedom or capture, and life or death that would have regularly played out in this historic dwelling.

Researchers believe that William Wright and his wife Phebe Wierman Wright (a descendant of our friend William Wierman the miller) were active in helping almost 1,000 African Americans reach freedom from 1819 through Emancipation. Many of the Quakers in this area were part of the Underground Railroad, including Phebe's brother Joel Wierman. One of the slaves aided by the Wrights was J.W.C. Pennington, a blacksmith who escaped from Maryland in 1828, studied with the Wrights for several months and then at Yale, became a minister and anti-slavery publisher, and lectured throughout the Northeast and Europe. He kept his former status secret until he published his autobiography The Fugitive Blacksmith in 1840. Friends in Scotland later formally purchased his freedom. (Photo courtesy of The Hartford Black History Project.)

As an interesting side note, William and Phebe's son, William Wierman Wright, became a noted railroad engineer. During the Civil War, he served as a Union general, with responsibility for many of the railroad lines used by the army, and he became one of General William Tecumseh Sherman's most trusted colleagues.
After my exhaustive search and ultimate failure to locate the Wright House, I was pleased to find Deardorff House with no difficulty whatsoever.   Other than the entrance porch, the red sandstone home appears not to have changed very much since Isaac Deardorff built it in 1786. Just as remarkable is the fact that Isaac's earlier, one-room log cabin also survives. It's shown on the right of the main house and served as a summer kitchen.

Isaac Deardorff was a German Baptist who emigrated to America to escape religious persecution. He was able to build this fine house as a result of his successful milling operations, which began in 1773. By the 1920s, however, the mill had ceased operations, and the property passed from the Deardorff family to relative Chester Worley—the little grandson of Isaac and Caroline pictured earlier. In the interest of public safety, Chester had the mill dismantled in 1937. He is pictured here with the deteriorating mill.

The ruins of the foundation still sit alongside Latimore Creek.

In the process of touring this area, I happened across a number of other places. One of these was the house built by Isaac and Caroline Worley in about the late 1800s. I believe they are pictured just to the left of center in the historical photo. Their house is still in excellent shape, with very few modifications from its original configuration. Oh, and it now serves as the law offices of Dave Worley and his brother Daniel!

I also found the Blackberry Schoolhouse, except, once again, it wasn't. Despite being a dead ringer, it later proved to be the Plainfield School. Note the semi-circular attic window and what may be the original bell in the front yard of the modern version. I was beginning to wonder just how many one-room schoolhouses there were in this part of Adams County…

At the other end of Latimore Valley Road, I rediscovered the Latimore Valley Fairgrounds, complete with its historic dirt race track. (Faithful readers with long memories will recall that I visited this site, and the Eastern Museum of Motor Racing, back in 2006 on my BMW F650CS motorcycle, as documented at Eastern Motor Racing Museum and To and From the Eastern Motor Racing Museum.) This time, I parked next to this inviting tower.

Taking advantage of the opportunity for a better vantage point, I eagerly climbed to the top of the tower, only to discover that, being supported by just 2 pillars, it swayed a lot! Fearing an imminent collapse and an ignoble landing, I got a couple of shots and beat a hasty retreat back to terra firma.

I knew that the museum was closed after October, so I was surprised to see some hot rods parked there. Turns out that the museum staff was having an end-of-racing-season open house, and I was glad to revisit this beautiful facility. As a former SCCA road racer, I'm less interested in dirt-track "roundy-round" racing than Formula One, Indy Car, Le Mans, and so forth. But this place is great, and there's no denying the excitement of big-block, ground-pounding engines in short-wheelbase, open wheel race cars. The sprint cars are lined up against the back wall in this photo, with the museum's collection of midgets in the foreground.

These vintage Indian motorcycles feature classic "suicide shifters" along with bright paintwork, big engines, and little brakes.

Only a true dirt-track racer would have the idea of building a sprint car with a 7.2-litre Ranger L-440 aircraft engine for power! Leon Hubble built this one in 1950 and campaigned it successfully for many years. The engines were designed to run upside-down in aircraft, and apparently you could buy them cheap as post-war government surplus. And this was back when men were brave, raced in cloth helmets, and smoked cigars while they drove.

Speaking of brave, consider Henry Watson, who built this sprint car in 1928 from a 1919 Model T Ford. Spindly wire wheels are one thing, but take a look at the trailing arms holding the rear axle in position. As best I can tell, they're made of thin box-section steel, with the ends hammered flat and connected to the frame by a small bolt! :confused0068: 😮

This much tidier race car was built by Lyle May during 1932-1934—while he was a prisoner in Michigan. May and his fellow inmates even managed to cast an aluminum overhead-cam cylinder head to go atop a 4-cylinder Ford Model B engine. May raced this car for many years following his release from prison, and others continued to campaign it when he retired from racing to build and manage the Owosso Motor Speedway in Michigan. Extraordinary—and here I thought they just made license plates.

As I left the museum, I, uh, somehow managed to end up on the dirt oval in the Z4. In this photo, I'm approaching turn 3, at a rather more sedate speed than the sprint cars would be doing. Such fun! (And now I've added Latimore Valley to the tracks that I've either raced on or driven around. Let's see, that's Summit Point, Watkins Glen, Nelson Ledges, and Road Atlanta in the former category, and Nurburgring, Thruxton, and Marlboro in the latter.)

Returning to my tour, I naturally caught sight of another, identical, one-room schoolhouse lurking behind some trees and a garage add-on. I tell ya, the dang things was ever'where! (This one ultimately proved to be the former State Road Schoolhouse.)

So far I've neglected to mention that York Sulphur Springs was started in about 1790 when "healing springs" were discovered in this area. Per the Latimore Township Newsletter, "An analysis showed that it contained 20 parts Epsom salts, 6 parts gypsum, 4 parts common salt, and the balance sulphur." Not surprisingly, the water was characterized as "very unpalatable but highly medicinal in value." Soon, a summer resort was built upon nearby lands owned by the Wiermans, and people began to travel here from Baltimore and Philadelphia. A much larger hotel was added not long after, and George and Martha Washington were known to have taken the waters here in 1799.

Sadly, the resort was destroyed by fire in 1896 and never rebuilt. Many of its stones were used to construct this home on the same land bordering Bermudian Creek. Note the sheltered pump in the foreground. I would like to have tried some of the "very unpalatable" spring water, but no one was available to voice approval (or advice not to do it!)

The town of York Sulphur Springs was laid out by John Albert and (naturally) Joseph Worley in 1803-1804. They originally called it Petersburg, in honor of the first resident (who traded whisky at his log cabin with the local Native Americans). Later, it became York Sulphur Springs and is now just York Springs. In the historical photo from The Latimore Township Newsletter, the First National Bank of York Springs is seen as a three-story building. In addition to the bank, at one time or another it housed the high school, a community center, a roller skating rink, and the International Order of Odd Fellows (with our friend Isaac Worley as a charter member).

Would you believe that this is the same building, today? Yep, all two stories of it. (Maybe the IOOF had to go…? Well, in fairness, the building was constructed by the IOOF in 1848, and the bank didn't set up shop until 1905.) The bank is still going strong, although it no longer prints its own currency as it once did.

The bank parking lot seemed as convenient a place as any to park on this Sunday. Besides, my Z4 is absolutely drawn like a magnet to any rustic old structure.

Remember the long-lost Old White Church, whose congregation moved to York Sulphur Springs in 1836? Well, this is where they moved to—Christ Episcopal Church, still in excellent shape and occasionally holding services for special occasions.

In Dave Worley's collection of vintage photo's, this one caught my eye. It shows the 1935 York Springs High School parade through town. See the house in the background, with the unusual windows and peaked shutters? Yep, still there and still doing just fine.

This old barn on the outskirts of York Springs is not doing nearly as well, but it was an impressive sight nonetheless.

As my trip was nearing its end, I motored up Town Hill Road toward Blackberry School Road to find the aforementioned schoolhouse. I drove back and forth along the road twice but saw no sign of it. I reluctantly concluded that, however many of these schools there were, not all of them survived. A bit disappointed, I retraced my steps and stopped for a scenic vista photo-op in the late-afternoon sun.

Dang! Was that a one-room schoolhouse in the distance?? Zooming in, I saw immediately that it was. The Blackberry School had been found at last!

Here's Dave's vintage photo of the Blackberry School again, along with my newfound discovery.

But, of course, despite being only 0.8 mile from Blackberry School Road, this was not the Blackberry School. 🙁 It's Harbolds School, as I subsequently learned from a careful look on Google Maps. (It's for sale, in case you're interested.) But that same perusal also showed what is almost certainly the One True Blackberry School, right at the head of BB School Road where it should be. It's been so heavily modified, however, that I did not recognize it for what it had been, despite driving by it three times. See what you think:

At this point in my journey, having failed to find the one schoolhouse I was actually looking for, I would have been happy to forget about any others. But then I remembered that my itinerary would next take me to … the Miller one-room schoolhouse. As it turned out, this one did not look like any of the others! And unlike all the others, it hasn't been converted to a residence; it's a museum.

With the sun starting to go down, I had to hustle to finish the trip. This pretty lake is part of Griest Park, where there used to be another dirt race track—but for horses, not cars. It hosted many major competition events from 1907-1936.

In planning for the trip, I suspected I might find at least one more old mill at the intersection of Lime Rock Mill Road and Zeigler Mill Road. I wasn't mistaken: this is the Lime Rock Mill, built in 1805 on the foundations of an earlier one. But what about the other mill? Checking on Jim Miller's website, it turns out that they were one and the same. The Zeigler Brothers bought the mill in 1941, and it's still owned by the family.

Within a mile of the end of my tour, from the corner of my eye I saw a red structure in the distant shadows. Determined not to discover yet another one-room schoolhouse that wasn't the Blackberry School, I decided to keep going. Curiosity got the better of me, however, I turned around, took Willow Lane, and found the 1892 Heikes covered bridge. It was a relief!

A mile further and I finished my trip at the Rock Chapel. Dating from 1773, it's the oldest Methodist church west of the Susquehanna River. It also had windows that were suspiciously similar to those of the one-room schoolhouses in Adams County. I later learned that the church had been rebuilt in 1849 (about the same time that the plethora of schoolhouses were constructed following the 1834 and 1848 legislative acts mandating public education). It was also used as a school…

The National Apple Museum website has an interesting history of one-room schoolhouses in Adams County. There were 150 of them, generally located at the junctions of two or more farms, and each one within 1 or 2 miles of the next. They were usually named after the farmer who donated land for their construction, and most continued operation until the 1950s or early 1960s. I suspect I'll be running into more of them in the future.
Despite this being one of the shortest of my tours, distance-wise, it still felt like I'd crammed in a lot of exploring, sightseeing, and driving enjoyment into the 10 1/2 hour trip. Thank you, Dave Worley, for your fascinating website that prompted me to explore this area. And thanks to your numerous ancestors in this area who, along with the Wiermans, Griests, Wolfes, and others, created the history in the first place!
Rick F.